You must obtain an RMA number before returning any product that under worranty. Products returned without any RMA number referenced on the outside shipping box will be refused by our receiving department. For any product returns, whether it is a defective product or return for repair, exchange, refund, or replacement. Please contact info@roadmatedvr.com to obtain an RMA number.
Return Guidelines
1). Upon receiving an RMA# from roadmatedvr.com RMA department, please mark the RMA number on the shipping box.
2). Download RMA request form and fill out the information, and include RMA request form inside the shipping box.
3). Well protect the returning product by packaging; shipping correctly is sender's responsibility. Any damaged caused by improper packaging will be rejected.
Restocking Fee
A 20% restocking fee will be charged on all returned products that exceeded 30 days after the mechandise was originally received. A returned product must be in new condition, in case of missing items or damaged product, fee will be deducted from the original invoice value for any product missing from the original box, packaging material, contents, accessories.

We recommend using class 4 or higher class SDHC memory card.
Memory card has its own lifespan and my not be able to store new data after certain period of time; Therefore, the price paid may decide the durability of memory card.

If your automobile electrical circuit on the cigarette lighter socket always hot, you may have the car DVR always on, until you turn the car DVR unit power off.

No software is needed. You may direct play recorded videos from car DVR unit, connect to your TV via AV cable, or connect to your computer via USB cable, HDMI cable (available for some models).

The car DVR is a portable Car Digital Video Recorder with a 120° wide angle lens that captures high definition video (30 fps) and displays them on it's 2.5" TFT LCD Screen, . It automatically records and save the video/audio files on SDHC memory card (up to 32GB). Files can be saved per 2 minutes, 5 minutes or 15 minutes segment with recycle recording, and can be played on itself, your computer or TV; With the included Car DVR suction mount, it can be mounted on your windshield then connect the power plug to your cigarette lighter socket. The installation just within minutes.
Have you ever been accused of a traffic violation that you did not commit?
Have you ever been involved in an accident, knew the other person had made the mistake not you, and wished that you had the evidence to back up your claims and avoid all those insurance bills?
Can you sure that nothing would happen during your whole life of driving when there are many carless drivers and street killers on the street?
How can car DVR helps me?
The car DVR is integral device for vehicles running on the road. If you have ever been accused of a traffic violation you did not commit, then you may need a Driving Recorder to show the truth as an evidence. A great thing is that Road Mate DVR is providing a high quality and affordable price for your choose.

The SDHC card maybe switched on "Lock" mode, check if it is unlocked.

Please follow below steps to register your product for one year limited warranty.
Step 1). Go to www.roadmatedvr.com, select "Registration" to create your own account.

Step 2). Enter your account information, and complete the registration.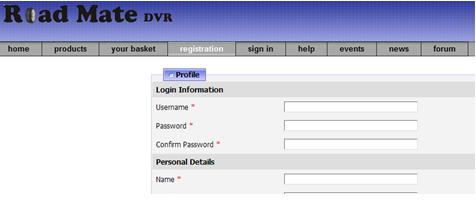 Step 3). Select "My Registered Products", and then click on "Register Product".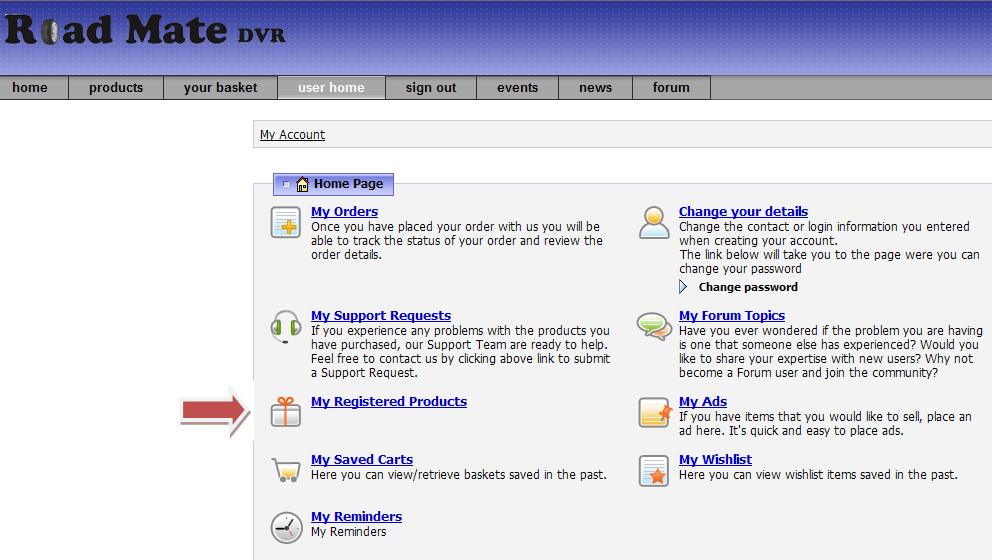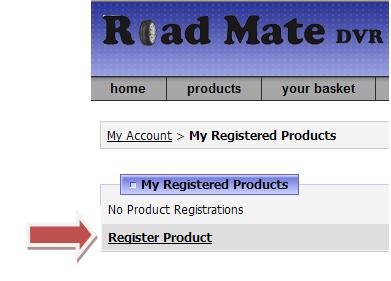 Step 4). Enter your purchase information. "Product code" and "Serial Number" information are on the bar code, can it be found on the box.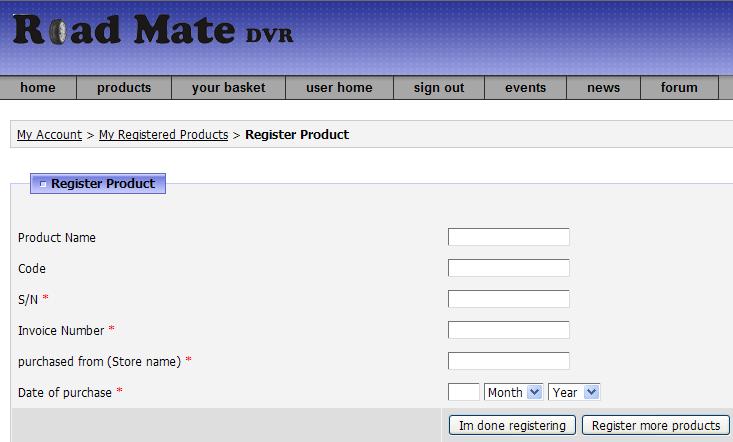 Keywords: product registration, register product

you need to register your product, in order to received one year product warranty that based on your purchased date.


Below photo shows vehicle "No curtain airbag" cable routing.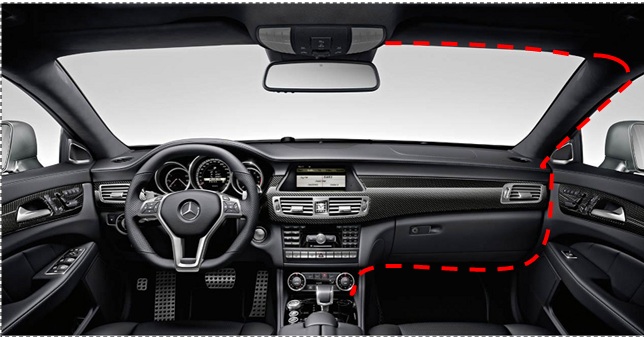 If your vehicle has curtain airbag, please watch mounting and routing video below.
Keywords: mounting routing

After power on, press "MODE" button to switch to camera mode. Double press the "MENU/EXIT" button to enter the function setup menu, and press the MENU button again to enter the system setup menu.
Go to the system setup menu, press the UP or DOWN button to select 'Date Input ' choices. press the "UP" or "DOWN" button to select 'Set', then press "REC/OK" to enter the time and date settings.

In this interface press "MENU/EXIT" button to select the places need to be adjusted and press the "UP" or "DOWN" button to adjust the data, after adjusting, press "REC/OK" to save and exit. The date and time set will be displayed on the photos and recording videos.

Keywords: set date and time

Problem to use PNY memory card on your car DVR? Got error message " Card Error" or "No Card"? Don't feel bad, the problem is not you, your car DVR or your GoPro Hero 3, the problem is your PNY memory card, try a different brand such as SanDisk.
There are plenty of brands at very different prices, this is something you really shouldn't cheap out on how you use them. By far the majority of issues we have seen on SD card related problems, many can be avoided by ensuring you are using a legitimate suitable card for your car DVRs.
We have found PNY 16GB and 32GB memory card have problem to be used on car DVR and GoPro Hero 3. You may Google articles that associated with this problem.
I found one on Youtube.

Use the car charger that comes with the package is required, the volts(V) and amps(A) must meet the factory designed specifications. Our car DVR require USB chargers that output is 5V and 1A. Using a charger that do not meet factory requirement can result damage of your car DVR unit and battery and cause dangers.
If your car DVR unit does not power on, you may need to "Reset" your car DVR unit (refer Reset my car DVR).

To connect the car DVR unit to your computer does not need any driver or software.
If you have trouble to getting your computer to recognize your car DVR unit, please try the following steps.
Power off your car DVR unit before connecting to your computer.
Make sure the USB cable connection is good between your car DVR and computer.
Make sure the SD memory card properly inserted into the car DVR.
Try to connect your car DVR to other USB port
Unplug the USB cable from your computer then plug it back after 10 seconds.
Reset your computer

To download video files to your computer you may
1. Remove SDHC memory card from car DVR unit then inset to your computer card reader.
2. If your computer has no card reader, you may connect the car DVR to your computer via a USB cable.
Once you connected, your may download video files to your computer.
For 7202 model, please refer User Manual page 23.
For L-640 model, please refer User Manual page 28.

To mount the suction mount on your windshield, you need to
1. Apply the suction mount to a clean spot on your windshield. Any imperfections to the surface may cause a leak to the suction.
2. Press forward the suction mount on windshield by pushing on the locking knob.
For L-640 and 7202 model, please User Manual page 9.

Please note that each retailer store or reseller have their own return policy, contact the retailer you purchased from to determine their return policy and process.
RoadMate DVR "30-day return policy" only applies to products purchased from the RoadMate DVR Web Store (www.RoadMateDVR.com).

A 32 GB, class 6 or class 10 SDHC memory card is suggested for your car DVR system. We recommend only purchasing name brand SDHC cards through reputable resellers. There are both counterfeit and underperforming SDHC cards out in the marketplaces.

Road Mate DVR products are warranted to be free from defects in materials or workmanship for one year from the date of purchase. Within this period, Road Mate DVR will, at its sole option, repair or replace any components that fail in normal use. Such repairs or replacement will be made at no charge to the customer for parts or labor, provided that the customer shall be responsible for any transportation cost. This warranty does not apply to: (i) cosmetic damage, such as scratches, nicks and dents; (ii) consumable parts, such as batteries, unless product damage has occurred due to a defect in materials or workmanship; (iii) damage caused by accident, abuse, misuse, water, flood, fire, or other acts of nature or external causes; (iv) damage caused by service performed by anyone who is not an authorized service provider of Road Mate DVR; or (v) damage to a product that has been modified or altered without the written permission of Road Mate DVR. In addition, Road Mate DVR reserves the right to refuse warranty claims against products or services that are obtained and/or used in contravention of the laws of any country.
Repairs have a 90 day warranty. If the unit sent in is still under its original warranty, then the new warranty is 90 days or to the end of the original one year warranty, depending upon which is longer. The warranties and remedies contained herein are exclusive and in lieu of all other warranties express, implied, or statutory, including any liability arising under any warranty of merchantability or fitness for a particular purpose, statutory or otherwise. This warranty gives you specific legal rights which may vary from state to state. In no event shall Road Mate DVR be liable for any incidental, special, indirect or consequential damages, whether resulting from the use, misuse or inability to use this product or from defects in the product. Some states do not allow the exclusion of incidental or consequential damages, so the above limitations may not apply to you.
Road Mate DVR retains the exclusive right to repair or replace (with a new or newly-overhauled replacement product) the device or software or offer a full refund of the purchase price at its sole discretion. Such remedy shall be your sole and exclusive remedy for any breach of warranty.
To obtain warranty service, contact your local Road Mate DVR authorized dealers or Road Mate DVR Product Support for shipping instructions and an RMA tracking number. Securely pack the device and a copy of the original sales receipt, which is required as the proof of purchase for warranty repairs. Write the tracking number clearly on the outside of the package. Send the device, freight charges prepaid, to Road Mate DVR warranty service station.
Online Auction Purchases: Products purchased through online auctions (this does not apply to purchases made on www.roadmatedvr.com) are not eligible for warranty coverage. Online auction is not accepted for warranty. To obtain warranty service, an original or copy of the sales receipt from the original retailer is required. Road Mate DVR will not replace missing components from any package purchased through an online auction.

RoadMate DVR L-640 and 7202 car DVRs record video are using AVI file type.